Last Week In Review: The Fed met, but was there mention of more Bond buying?
"I'm still standing – yeah, yeah, yeah." Elton John.
And after last week's Fed meeting, Bonds and home loan rates are still standing near record best levels. Read on for details.
After last week's regularly scheduled meeting of the Federal Open Market Committee (FOMC), Fed Chairman Ben Bernanke acknowledged that conditions in our economy are improving modestly, but he noted that the housing market remains depressed. One example of this is New Home Sales, which fell 7.1% in March to 328K units on an annual rate.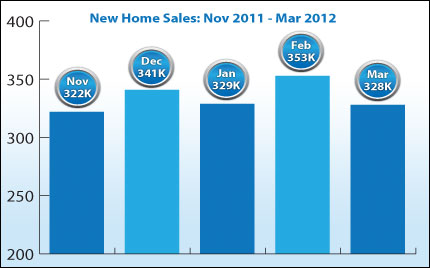 Bernanke also noted that inflation is higher in the short-run due to higher energy costs, but that the Fed expects prices to moderate and remain in check longer-term. Remember, inflation hurts the value of fixed investments like Bonds (including Mortgage Bonds, to which home loan rates are tied)...so inflation staying in check is crucial when it comes to home loan rates remaining near record best levels.
One important subject the Fed
didn't
mention in their Policy Statement was another round of Bond buying to stimulate our economy (known as Quantitative Easing or QE3). This wasn't much of a surprise because — after several moves to prop up the economy — the Fed must see where upcoming economic reports go before venturing to underwrite the economy further. If the housing market remains depressed and the economy doesn't pick up steam, QE3 could be a very real possibility.
And there was a bit of a sluggish read on our economy last Friday, after the Fed's mid-week meeting. The advanced (first of three readings) of Gross Domestic Product (GDP) for the 1st Quarter of 2012 came in at 2.2%, well below expectations. This was also well below the 3% final 4th Quarter 2011 GDP reading. Within the report it showed that the personal consumption expenditure inflation reading rose at the fastest pace since the 2nd Quarter of 2011. This is definitely something the Fed is watching closely.
As 2012 continues to unfold, inflation, the housing market, our sluggish economy, and our ever-growing debt are important issues that the Fed and our government need to address. Seeing the debt crisis in Europe escalate must put a sense of urgency on our government to reign in our annual budget deficit and overall debt. This mix of factors will continue to impact the direction in which Bonds and home loan rates move in the weeks ahead.
The good news is that now continues to be a great time to purchase or refinance a home, as home loan rates remain near historic lows.
Let me know if I can answer any questions at all for you or your clients.
Forecast For The Week: A full slate of economic reports ahead, with news of inflation, manufacturing, and the job market.
As you can see in the chart below, Bonds and home loan rates continue to hover near record best levels. I'll stay on top of this week's news to monitor how Bonds and home loan rates are impacted.
Chart: Fannie Mae 3.5% Mortgage Bond (Friday Apr 27, 2012)

A slew of economic reports are set for release this week, and investors and traders will be watching the data closely for any signs of an economic slowdown:
Right off the bat on Monday the Personal Income and Spending data will be released along with the closely watched Core Personal Consumption Expenditure (PCE) report. The Core PCE is the Fed's favorite gauge of inflation and comes after Fed Chairman Ben Bernanke said last week that inflation in the short-term has been pressured higher by rising energy costs.
In the manufacturing sector, the Chicago PMI will be released on Monday with the national ISM Index delivered on Tuesday.
On Wednesday, the ADP Employment Report will be released ahead of the government's monthly Non-farm Payrolls and the Unemployment Rate on Friday.

Initial Weekly Jobless Claims

will be released on Thursday. The recent couple weeks of elevated Jobless Claims is disturbing…and if it continues, rest assured QE3 chatter will re-emerge.
Remember: Weak economic news normally causes money to flow out of Stocks and into Bonds, helping Bonds and home loan rates improve, while strong economic news normally has the opposite result. The chart above shows Mortgage Backed Securities (MBS), which are the type of Bond that home loan rates are based on.
When you see these Bond prices moving higher, it means home loan rates are improving — and when they are moving lower, home loan rates are getting worse.
To go one step further — a red "candle" means that MBS worsened during the day, while a green "candle" means MBS improved during the day. Depending on how dramatic the changes were on any given day, this can cause rate changes throughout the day, as well as on the rate sheets we start with each morning.